Installing the Horizon Client
Installing the Horizon Client
---
Expedient Enterprise Workspace - Installing the Horizon Client
Overview
Expedient Enterprise Workspace utilizes VMware Horizon virtual desktop technology. When your end users access the desktop portal they have the option of either launching their desktop with the native Horizon Client or within their browser. Launching a desktop via the Horizon Client provides the most optimal desktop experience. This document outlines the process for installing the Windows Horizon Client but the options shown the steps below are also similar for the Mac and Linux Horizon Clients.
If your end users will be connecting to their virtual desktops via the Horizon Client you will need to ensure that the Horizon client is installed on the computers your users are accessing their virtual desktops from. The Horizon Client installer can be downloaded from VMware using the link below. You can also contact the Expedient Operations Support Center for assistance in accessing the software.
Install the Horizon Client
When you launch the installer you will first be presented with the options in the image below. You can choose to click Agree& Install or continue with a customized installation.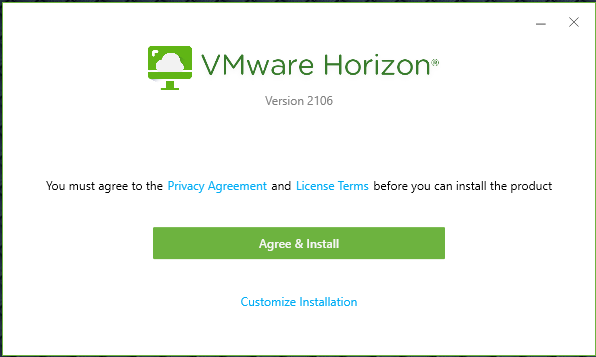 If you choose the Customize Installation option you are presented with the options below. It is recommended to include the options for USB redirection, Virtualization Pack for Skype for Business, HTML5 redirection, and Media Optimization for Microsoft Teams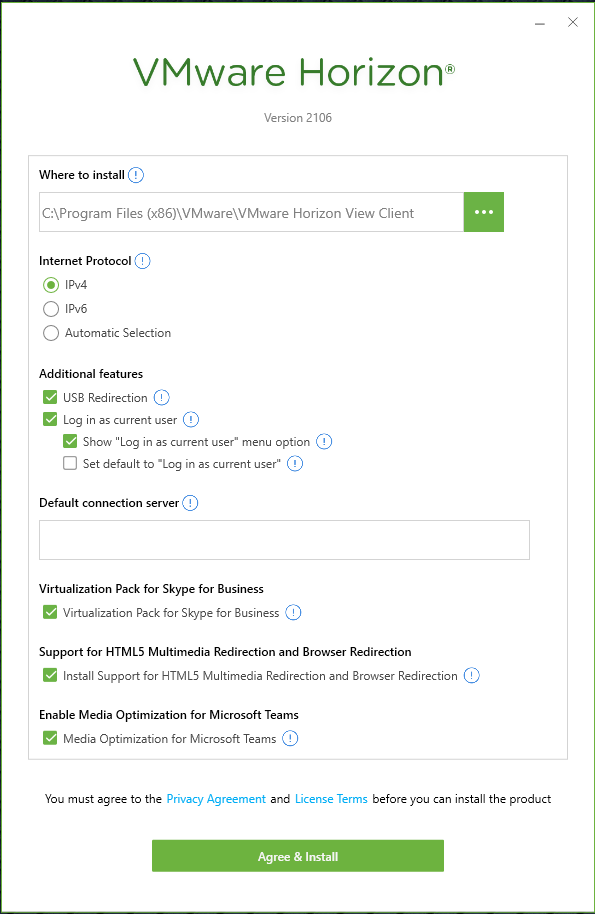 Once you click Agree and & Install the client will install. If you selected the Log in as current user option you may be prompted to restart to complete the installation. After the Horizon Client is installed, when a user launches a desktop from the desktop portal it will launch with the native Horizon Client. Depending on your browser settings you may be prompted that the link is trying to launch an external application which you will need to accept in order to allow it.
Install Optimization Plugins
Some software like Zoom and Webex provide Horizon Client plugins that optimize the experience of running the software within a VDI experience. Once you have installed the Horizon Client you may wish to install client plugins to improve the virtual desktop user experience. Please note that the order of installation is important. You need to install the Horizon Client prior to installing any optimization plugins. Depending on which optimization plugins you install there may also be server side requirements necessary to fully configure the application optimization. Vendors may also provide alternate VDI specific installers. Be sure to review any vendor documentation for specifics.
Command Line Installation
If you are using a software management solution to manage your end user devices you may wish to push the Horizon Client to those devices via your software management platform. The Horizon Client installer provides command line installation options to configure the client install just as you would from the UI installer. For more information please see the link below.
---
Was this article helpful?
---
What's Next